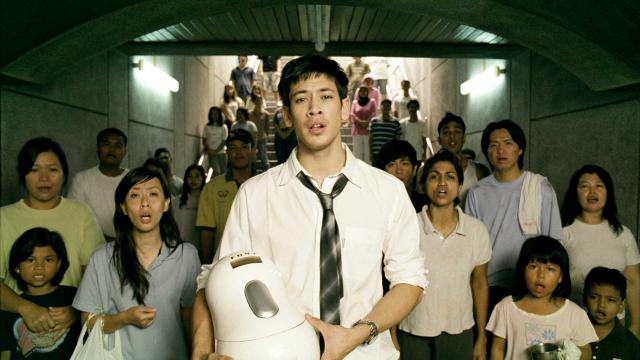 "Malaysia is where the shit's happening now, as evidenced by
the fresh sprout of modernism in Yeo Joon Han's marvelicious Sell Out!,
a ceaselessly inventive excoriation of modern industry and reality-show media ... it's also a loose, rich, beguiling, sometimes sophomoric Godardian triumph"
- Michael Atkinson, The Village Voice
"a hilarious, demented, and wildly creative comic musical from Malaysia. ..."Sell Out!" might be the most perfect satire of our cynical,
celebrity- and money-obsessed times ever made."
- The Independent Film Channel (IFC)
"exceptionally lively Malaysian musical comedy"
- The Torontoist
"There 's nothing else like it in theatres."
- Norm Wilner, Now Magazine

"Sell Out! is an awesome Malaysian musical comedy from
the brilliant mind of filmmaker Yeo Joon Han"
- Brian McKechnie, Criticize This
"A story of our time. … a humourous, wink-filled comedy"
-Kong Rithdee, The Bangkok Post
"Believe us, this film is that good."
- Terry Ong, BK+ Magazine (Thailand)
"The happiest Malaysian film I have ever seen!"
- China Press, Malaysia

"Think Glee meets Woody Allen"
- Stephen Cole, Globe and Mail, Toronto

"punchy songs and comic routines"
- Derek Elley, Variety

"a delightfully subversive musical that doubles as a morality tale"
- Adam Nayman, Metro Canada
"a buzzing ball of comedic energy"
- Allan Koay, The Star
 "this is a cult classic
in the making"
- Kurt Halfyard, Row Three

"a riotously funny, bitingly sarcastic, andhysterically cynical spoof of reality television, corporate greed, independent cinema, romantic musical comedies, love and death, and whatever else falls in its path."
- This Week in New York
"a concoction so savagely hilarious, so overflowing with stylistic creativity and so rich in ambition that it takes a while for the full weight of itsmisanthropy hits you in the gut like the bullets that spray those anonymous innocent bystanders in its opening sequence."
- My Life at 24 Frames Per Second, New York
"Prepare to laugh out loud"
- Yong Shu Hoong, The Straits Times

"tears-rolling-down-your-face funny"
- Liz Ferguson, Montreal Gazette